Dental Implants in Ann Arbor, MI
Dental implants-the modern way to replace missing teeth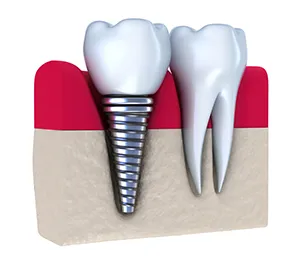 Dental implants are the revolutionary way to replace one or more missing teeth. They are a permanent, stable way to complete your smile. You don't need to remove them, and they won't move around when you are speaking or eating, unlike partials and dentures. Your dentists at Johansen Dental in Chandler, Arizona want you to know the benefits of dental implants and why they are the modern way to replace your missing teeth.
Dental implants are created from titanium, a very strong material that is also biocompatible, gentle to soft tissue and bone. In fact, after an implant is placed, your bone will grow around it and fuse to the implant, locking it in place. The titanium implant functions as the "root" of your missing tooth. After your bone has healed completely around the implant, your dentists at Johansen Dental will cap the implant with a beautiful, lifelike porcelain crown. Your dental implant will look and feel completely natural.
Dental implants are a permanent addition to your smile, and with proper care, they can last a lifetime. They are also stain resistant and don't ever decay. Dental implants are the modern solution to replace missing teeth and can offer many advantages. Some of the reasons people choose dental implants over other methods of tooth replacement include:
How natural-looking dental implants are, because they look just like your natural teeth
How convenient dental implants are, because you clean them just like your natural teeth and never have to take them out
How secure and stable dental implants are, because they become embedded in your bone, and are a permanent part of your smile
How conservative dental implant treatment is, because only the implant area is prepared, not the adjacent teeth, unlike dental bridgework
Dental implants also help you to retain the bone in your jaw, restoring a firm jawline and youthful facial contours. Removable appliances, on the other hand, can press against your jaw, causing your bone to diminish over time.
Dental implants are the modern, high-tech way to restore your smile. If you are considering dental implants or want to make an appointment, call your dentists at Bonnie P. Patel, DDS in Ann Arbor, MI at (734) 761-2144. Call today and discover what dental implants can do for your smile!